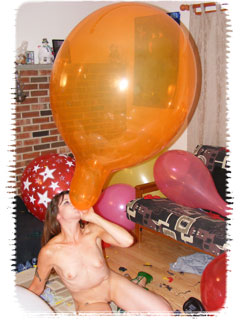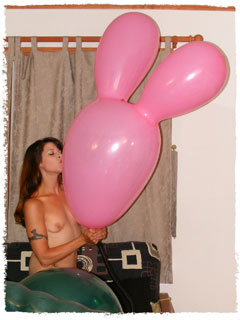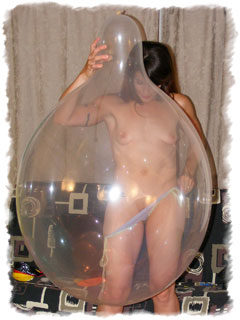 "Beverly's Big & Tight Booms"
As you have seen from Beverly's last video, she loves popping big balloons. The bigger, the tighter, the better. And this statement is never more evident than in her new video, "Beverly's Big & Tight Boom". Equiped with her two lungs and a high speed pump, Beverly makes every single balloon massively huge and super tight before it explodes in a shower of shards. And just to be sure every balloon reaches it's maximum potential, she employs an addition technique to her arsenal. Blowing up and pre-stretching the necks of the balloon before blowing up the balloon itself. She accomplishes this by enclosing the body of the balloon in one hand and then putting the mouthpiece of the balloon to her lips with the other hand, and blowing as hard as she can. This lets only the neck of the balloon inflate. The balloons of choice this time include Mexican airships, 17" Tuf Tex, 17 BSAs, 24" Qualatex, 16" Unique, Rifco, S&T, Malaysians and a giant rabbit balloon. Its an incredible assortment and Beverly makes sure that all get super tight and explode from the pump or her lips. One of my favorites scenes and when Bev graps a 24" Tuftex and says, "This balloon is going to pop hard". She then puts the balloon to her lips and a few minutes she gets it as big as it can possbibly get and then explodes in a very satisfying boom. In the end, not of these huge overinflated balloons are left in one piece. Its 79 minutes of big booms, plus 3 deleted scenes, easter eggs and 263 pictures that you will keep watching over and over again. Click on the film real for a nice preview trailer of the movie.




You need Quicktime Pro to save the preview. If you don't have the pro version, but still want to save the movie, email me and I will be happy to email it to you.
$40.00 (DVD) 79 minutes
Extras include 3 deleted scened, easter eggs, trailers, 36 chapter selections and 263 pictures from the movie for your TV /PC on DVD-ROM.
To download the DVD over FTP, please read our FAQ or email fnmjd@voicenet.com for setup and instructions.